Valentino VA2003 - David Tennant - Good Omens
David Tennant wears Valentino VA2003 sunglasses in Good Omens.
David Tennant wears Valentino VA2003 sunglasses in the Amazon and BBC series Good Omens (2019).
These Valentino glasses are worn in the first episode of the series "In the Beginning".
The sunglasses have sold out fast on Amazon USA and eBay.
A very good replica of the glasses by Magnoli Clothiers can be found on eBay for $125. This model actually has the same color lenses as the custom lenses seen in the series (dark instead of green) and slight differences in screw positioning, but overal a very accurate replica.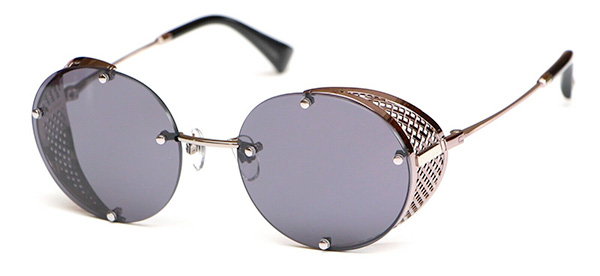 Magnoli Clothiers replica on eBay
A similar alternative for these glasses can be found on Amazon for $16.
A similar alternative pair of steampunk style sunglasses is more easily available and affordable than the discontinued Valentino sunglasses
In the same series he also wears a pair of Persol PO3166S sunglasses.
In the Good Omens series David Tennant plays Crowley, a demon who has lived on Earth since the dawn of creation. Originally called "Crawly", he is the Serpent who tempted Eve with the apple from the tree of knowledge of good and evil. The character hides his snake eyes with the Persol (and other) sunglasses.
Good Omens is a miniseries based on the 1990 novel Good Omens of the same name by Terry Pratchett and Neil Gaiman. The six episode series is a co-production between Amazon Studios and BBC Studios and stars an ensemble cast led by David Tennant, Michael Sheen, Adria Arjona, Jack Whitehall, Jon Hamm and Frances McDormand.
Reference: Valentino VA2003 3005/71