BluBlocker Demi Tortoise Nylon - Zach Galifianakis - The Hangover
Zach Galifianakis wearing BluBlocker sunglasses on a publicity still of the movi
BluBlocker sunglasses with demi-turtoise frame as seen in the movie The Hangover
Zach Galifianakis wearing the Human Tree t-shirt in the movie Hangover
Zach Galifianakis wearing the Blublocker sunglasses on a poster of the movie Hangover
Zach Galifianakis is one of the friends in the popular 2009 movie The Hangover. Zach's character, and the baby he takes care of, are wearing a pair of demi tortoise nylon BluBlocker sunglasses. These glasses are known from TV infomercials and are very inexpensive, available from $33 at Amazon! It's the most popular model of BluBlocker, and only recently became available in this tortoise color, see the BluBlocker website.
These BluBlockers have temples made of memory retention nylon. The temples stretch and contract to fit any size face and the pin hinges are thick and durable. The large lens provides ample protection and the nosepads are molded into the frame itself.
Thanks to Matt Campbell for the ID
Reference: Blublocker Demi Tortoise Nylon 2725K
COMPLETE THE LOOK!
The Human Tree t-shirt as worn by Zach Galifianakis in The Hangover is a major hit, just like the movie itself. A must have for Halloween or dress-up party. Get it now at Amazon ($19.99 - $28.00). Or get a replica of his satchel (it's not a purse!) for $34.95.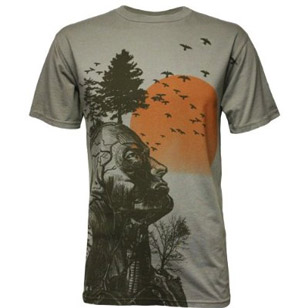 Buy at Amazon ($19.99 - $28.00)