Oliver Peoples Benedict - Michael Douglas - Solitary Man
Michael Douglas wearing Oliver Peoples Benedict sunglasses in the movie Solitary Man
photo ©
Millenium Films / Smartest Man Productions
Michael Douglas wearing the "Keep the Spirit Alive. High Five" t-shirt
photo ©
Millenium Films / Smartest Man Productions
Michael Douglas wears a pair of Oliver Peoples Benedict sunglasses In the movie Solitary Man. The sunglasses seen in the film have dark lenses and a silver frame, but you can get these stylish shades in gold as well. You have a choice of Photo-chromic, Polarized, or Mineral Glass lenses. Get them  at the Oliver Peoples store or at Amazon.com or eBay.
Douglas also wears Benedict in Beyond the Reach (2015).
Reference: Oliver Peoples Benedict, silver with chrome sapphire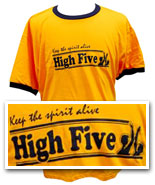 Complete the look!
In the movie Michael Douglas wears a yellow t-shirt wth the text "Keep the Spirit Alive. High Five" (see screenshot on the left). This exact t-shirt is available at PrankPlace.com.