Jacques Marie Mage Zephirin - Brad Pitt - Babylon
Brad Pitt wears Jacques Marie Mage Zephirin sunglasses in Babylon
photo ©
Paramount Pictures
Jacques Marie Mage Zephirin
photo ©
Jacques Marie Mage
Brad Pitt wears Jacques Marie Mage Zephirin sunglasses in Babylon
photo ©
Paramount Pictures
Brad Pitt wears Jacques Marie Mage Zephirin sunglasses in the film Babylon (2022).
The sunglasses have a dark frame but semi-transparant, so you can see the metal frame through the acetate.
The movie is set in the 1920s so the costume designers found a frame with a pre-WWII shape. They found the Zuphirin model, from Jacques Marie Mage, a Los Angeles based producer of limited edition designer goods that specializes in micro production of artisanal objects.
Jacques Marie Mage created his exclusive eyewear brand in Los Angeles in 2014. Jacques Marie Mage eyewear was worn on the cover of GQ magazine by Jeff Goldblum in December 2017 and by Brad Pitt in September 2019. Jeff Goldblum also wears custom Jacques Marie Mage glasses in Jurassic World: Dominion (2022).
Find the exclusive, Zephirin model on the Jacques Marie Mage website for $750 in different colors (most color limited to 350 pieces), although the exact color (dark frame, with visible metal frame) doesn't seem to be available.
Alternative sunglasses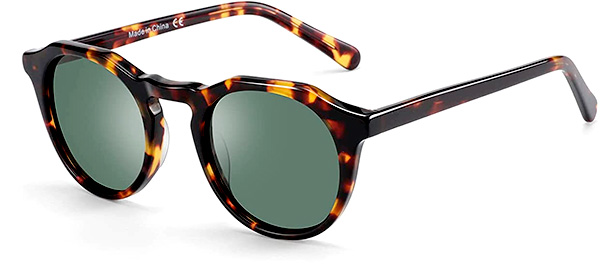 An affordable alternative for these sunglasses are the Zenottic Vintage sunglasses on Amazon ($25).
Reference: Jacques Marie Mage Zephirin
With thanks to Banton Frame Works for the ID